MEDINA: Security framework to achieve a continuous audit-based certification in compliance with the EU-wide cloud security certification scheme
 PROVIDE A HOLISTIC FRAMEWORK TO THE EU CYBERSECURITY ACT (EU CSA)
Deploying a high- assurance, evidence -based and continuous certification for Cloud Service Providers.
MEDINA contributes to the European Cloud Security Certification policy, enhances the trustworthiness of cloud services thanks to the compliance with security certification schemes, cooperates with relevant stakeholders, and helps Europe prepare for the cloud security challenges of tomorrow.


Certification metrics and specification languages

Automated evidence management

Lifecycle management of certificates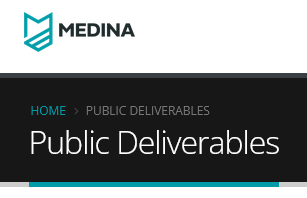 One new public deliverable (D5.5 MEDINA Integrated Solution-v3) has been released and published on the MEDINA project website . This deliverable presents the third and final version of the MEDINA integrated solution with increased functionalities compared to the...