Last Monday (Feb-6th 2023) our project had the chance to participate on the NECS – PhD Winter School (https://necs-winterschool.disi.unitn.it/) with an invited lecture entitled "MEDINA – Paving the road towards continuous audit-based certification for cloud services in Europe", given by Jesus Luna Garcia (Bosch).
During this session, the audience (mostly grad students from all over Europe) found about the EU Cybersecurity Act (EUCSA) and the hard-work ENISA is putting in developing the novel EU Cybersecurity Certification Scheme for Cloud Services (EUCS). After some basic terminology related to certification processes was introduced, the lecture presented the MEDINA project with a specific focus on its architectural framework and ongoing leverage of NLP-techniques. A demo session was also included to communicate, in a concrete manner, the developed framework and its advantages for all involved stakeholders. Finally, the lecture closed by elaborating on the question "What comes after MEDINA?", where diverse topics were briefly discussed e.g., certification of AI trustworthiness, and future sustainability of MEDINA's outcomes.
During this lecture our team decided to actively engage the audience by providing online polls which results are shown below: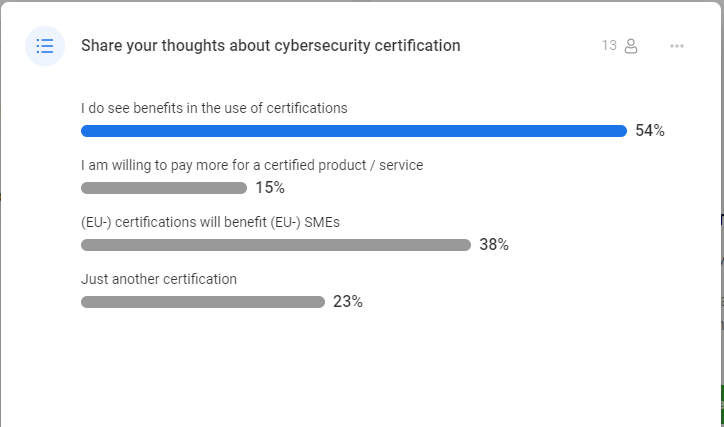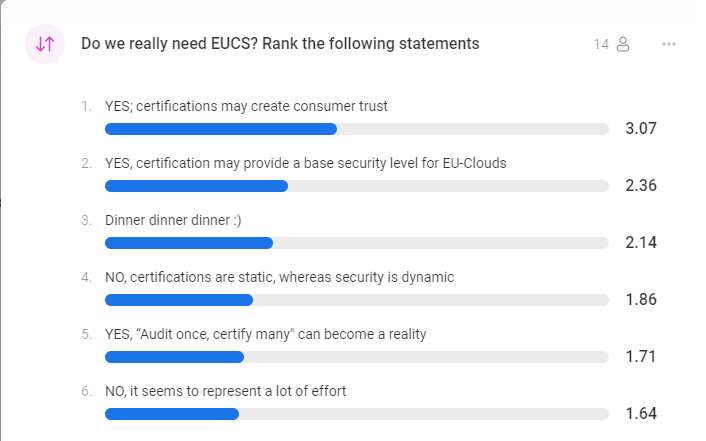 Obtained answers clearly show the interest on the topic of cybersecurity certification and how MEDINA contributes to the uptake of EUCS. Furthermore, our polls also show that dinner is a very important aspect on the R&D life 😊.